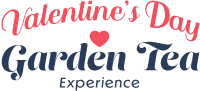 Celebrate a day of love and friendship with someone special this Valentine's Day! Our Garden Teas are served in the tranquility of our Tropical greenhouse oasis, at our Vineland location only.
Our exclusive Valentine's Garden Teas will feature delectable chocolate dipped strawberries, chocolate truffles, valentine cookies and of course an abundance of delicious sweet and savoury fare. Not only are you and your guests treated to an amazing Garden Tea but Valentines would not be complete without flowers. Everyone will be presented with a beautiful floral piece.
Please read our FAQ to discover everything about this amazing experience.
We look forward to hosting you soon!