Spring Bulb Workshop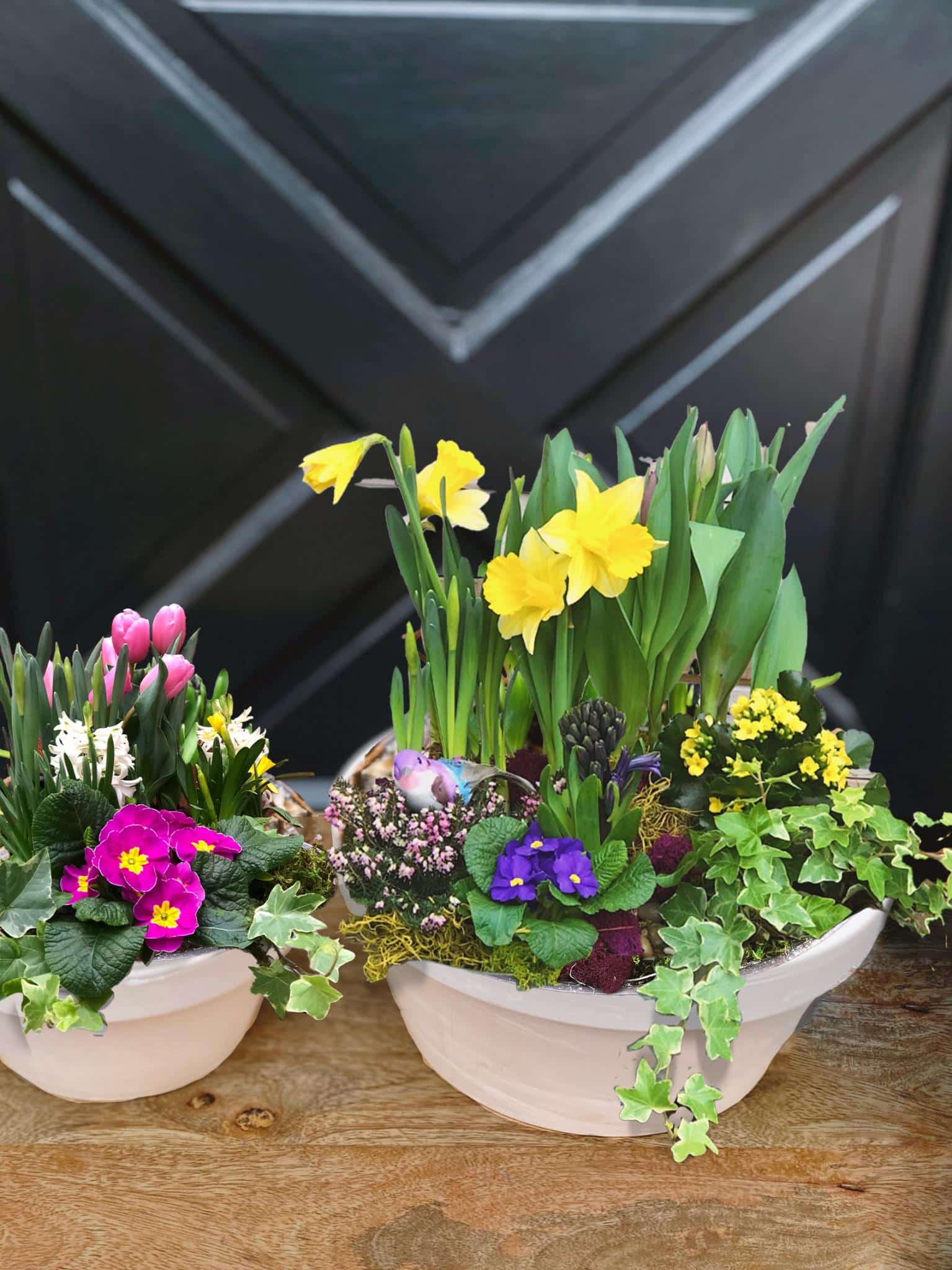 Description
Spring has sprung and we are excited to kick-start this fresh new season by offering our classic Spring bulb planter. Welcome Spring into your homes with duo trending off white clay containers featuring colourful spring bulbs. A delightful arrangement to awaken the season of new beginnings.
Please Note: Some product might differ as shown on picture.
---
Party Size Bigger than 4?
Simply purchase table numbers that add up to your party size.
Example: Need a table for 7? Purchase one table of four and one table of three.
*** NOTE: Make sure that names are IDENTICAL, and we will seat you together. Different names will be treated as different tables. ***
Event F.A.Q
Where are the workshops located?
All our workshops are located at 3711 King Street in Vineland at the Vineland Watering Can location. The workshops are hosted in the hoop houses situated behind the main building, unless stated otherwise. We advise parking in the neighbouring church's parking lot as this is the closest to the classrooms.
Do I need to be talented to attend the workshop?
No, we love you just the way you are! Our workshops are designed so that everyone takes home a stunning arrangement. We only ask for you to come with a fun adventurous attitude.
How do I make a workshop purchase?
Tickets are sold by table size. The table size purchased is the total number of guests allowed to attend at your table. We need to know table size so we can properly distance everyone.
I can't see the table size I will be needing.
Table sizes are sold for individual seating and upwards. Simply add up the number of guests who will be attending. E.g. I have 8 guests attending. Check for table sizes that add up to your number of guests in any combination. Combinations can be as follows. (4 tables of 2 =8), (2 tables of 4=8), ( 2 tables of 1, table of 2, table of 4=8), etc. Enter identical names on all tables. We will know you need to be seated at one table. If you are unable to purchase for the correct number combinations for your guests and have an additional spot that you will not be needing, you will be required to purchase the whole table for that particular workshop. E.g. I only need a table for three but a table of 4 is available. You will be required to purchase the table for 4.
Ministry Guidelines
The Watering Can adheres to all ministry guidelines. E.g. masks, group size, social distancing, etc. Changes may occur in accordance with the ministry, please refer to our Covid-19 Updates page for our most current information.
I need to cancel my workshop.
Workshops are non-refundable. However, your seat is transferable. If you are unable to attend, you will receive a take home a kit to complete the workshop at home.
What is the procedure if we go into another "shut-down"
Let's hope not………. We will be offering workshop kits with full instructions, or you can receive a store credit or full refund.
What if I am late to class?
All workshops must start on time; we need enough time for sanitization. If you are late, we will do our best to catch you up.
Is there enough social distancing in place in the workshop?
Yes, we have a minimum placement of 6 to 10 feet between tables and chairs.
What if I want to make two projects? E.g. Two urns
A "Traditional Urn" or a "Traditional Urn with a Twist" can be purchased the day of the work shop. For any other project please call in advance to order the second piece.
I see friends at the workshop I want to sit with. Can I move tables?
Under no circumstances are you able to move chairs, tables or seats the day of the workshop… please register accordingly. If you forgot to sign up with your preferred table mates, please give us a call 24-48 hours in advance and we will adjust accordingly.
I will be assisting someone with special needs. Do I need to pay?
No. Anyone assisting someone with special needs does not pay. Please call us at 905-562-0088 to register as we need to seat you accordingly.
Can I bring a guest or child?
No babies, kids or guests are allowed. Everyone at your table must be a paying guest regardless of age.
Do I bring my own clippers to a workshop?
All tools and materials will be provided. Clippers, staplers etc. will be sanitized after each use.
What is the appropriate clothing to wear for a workshop?
We suggest relaxed and layered clothing to ensure a comfortable experience.
How long are the workshops?
Typically, the average length is approximately 1 ½ hours.
The workshop I want is sold out. Is there a waiting list?
Yes, there is a waiting list! The list is first come, first serve. We will contact you if a space becomes available. Just add your name to the wait list on the workshop you would like to attend.